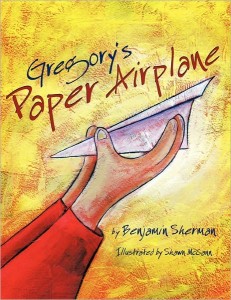 Gregory's Paper Airplane was written by Benjamin Sherman, a young abolitionist who has a heart to make a difference in the lives of other children.  This is a story about orphans in Cambodia and a boy who cares about them and wants to help them.  I purchased this book to help support International Justice Mission and Agape International Missions, and now I'd like to pass it on to someone else to share with their children.
Check out the video below and visit Gregory's Paper Airplane website to watch more videos and find out more about Ben and the reason he wrote this book.
As with last week's giveaway, to enter this giveaway, click on the "Join giveaway now" button below, and then you'll have several more ways to enter the drawing.  If you come across any difficulties with the form, or if you have any questions, please let me know.  This giveaway will end on Friday, August 19, at 7:00 AM Mountain Time.