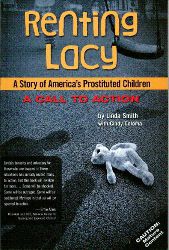 This week's book giveaway is Renting Lacy: A Story of America's Prostituted Children, by Linda Smith, president and founder of Shared Hope International, with Cindy Coloma.  I wrote about Renting Lacy in a previous post, so please check that out for more information about the book.
From Shared Hope's website . . .
Step into the darkness of the trafficking underworld. Meet the actual people who live there. Hear their words – and sense the terror and despair. Is there hope?

Decide for yourself. Read this extraordinary book and encounter the truth face-to-face. This is perhaps the most shocking book you'll ever read . . . but essential reading for every concerned American.
Please be aware that this book deals with mature subject matter and is not appropriate for young readers.
As with last week's giveaway, to enter this giveaway, click on the "Join giveaway now" button below, and then you'll have several more ways to enter the drawing.  If you come across any difficulties with the form, or if you have any questions, please let me know.  This giveaway will end on Friday, August 12, at 7:00 AM Mountain Time.