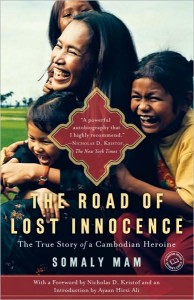 The Road of Lost Innocence is Somaly Mam's own story of being sold into sexual slavery as a girl in Cambodia and living a life of torture and suffering.  Through Somaly's story, I learned more about the culture in Cambodia and how so many women and girls are abused and mistreated.  There are countless brothels where young girls are sold, brutally raped, and horrifically abused.  Somaly lived through dreadful things, but her story doesn't end there.
Having survived and escaped the terrible nightmare of her life, Somaly couldn't forget or ignore all the other girls who were suffering the same way she did.  She went back to the brothels to save the girls held captive there.  Somaly now helps rescue girls who are trapped in sexual slavery and offers them shelter, love, medical care, and education.  She has been able to help thousands of girls.
The Somaly Mam Foundation, started by Somaly Mam in 2007, is committed to ending modern-day slavery around the world.  Visit their website to learn more about Somaly Mam, programs to end slavery, and more.
A recent story called, "Rescuing Child Sex Workers", is about Somaly and her work.  Read the story and watch the video . . .