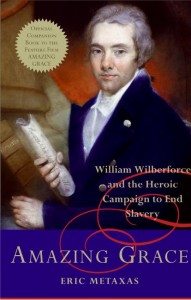 Amazing Grace, by Eric Metaxas, is a wonderful book on the life of William Wilberforce, a man who spent most of his life working to overthrow the African slave trade and, ultimately, the practice of slavery in the British Empire.  Wilberforce was a Member of Parliament in England and spent 20 years striving to bring an end to the slave trade.  After that, it took another 26 years for slavery itself to be abolished, with victory occurring only 3 days before William Wilberforce died.  What an amazing, moving and touching moment!  I didn't want the book to end!  William Wilberforce was such a good and kind man.  There is much to be said about this compelling book, but I think you should read it for yourself!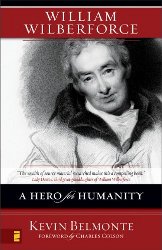 Another informative biography of this inspiring man is William Wilberforce: A Hero for Humanity, by Kevin Belmonte, the historical advisor for the movie, Amazing Grace.  Hopefully, by reading these books, you will come away with the same passion as William Wilberforce, whose faith in God spurred him on to change the world.
Edmund Burke said, "The only thing necessary for the triumph of evil is for good men to do nothing."
William Wilberforce was, by the grace of God, a good man who did something, and God used him to touch the lives of many people.