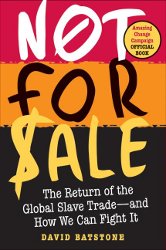 After reading about William Wilberforce, I became aware of the book, Not For Sale, by David Batstone.  This book deals with modern-day slavery, or as the subtitle puts it, The Return of the Global Slave Trade – and How We Can Fight It.  It is a book that is both terrible and good, heartbreaking and hopeful, all at the same time.  It is very well written and shows you the lives of slaves as well as organizations that are helping bring freedom to them.  Many reviews of this book on Amazon.com say what I want to say, so check them out (especially the ones called "The book that changed my life" and "Eye Opening and Disturbing").  Read the book – you won't be the same.
Another resource that goes along with this book is the DVD, Not For Sale . . . The Documentary.  You will see and hear about the slaves and organizations that are discussed in the book, Not For Sale.  It is disturbing to watch, but also encouraging, as it helps bring awareness to "what modern-day abolitionists are doing to fight the rampant terrors of human trafficking in the US and abroad."  I like what is said at the end of the description of this DVD on the Not For Sale website:  "It's time the world knew the realities of slavery.  It's time to spread the word that a new era for Abolitionists is at hand."
What could you do to become involved in this new era for abolitionists, to join the fight to end slavery and seek justice for the oppressed?