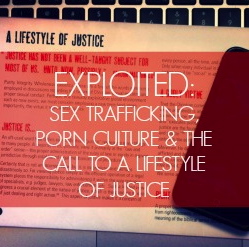 I just wanted to share another resource about the connection between sex trafficking and porn. Take a look at Exploited: Sex Trafficking, Porn Culture, and the Call to a Lifestyle of Justice, a paper put out by pureHOPE through their p.u.r.e.JUSTICE initiative. From the introduction of the paper:
Want to be informed and take action? Read on. But prepare first to peer into the blackness of commercial sexual exploitation. Be revolted. Be undone. Then commit to making a difference through prayer, understanding, resolve, and engagement.
Watch the video below, visit pureJUSTICE.org, and download the paper.