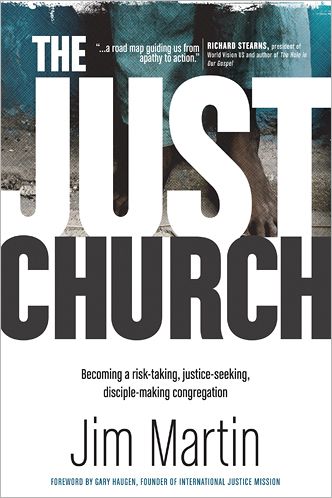 Today, October 8, is the official launch of the book, The Just Church, written by Jim Martin, vice president of church mobilization at International Justice Mission. Here's a little bit about the book as stated on The Just Church website:
The Just Church shares tangible, accessible strategies to help your church respond to God's call to seek justice, defend the widow and orphan, and rescue the oppressed…in far-off places and right in your own community. Whether you're already committed to doing justice in God's name and want to mobilize others around you, or you're newly awakening to God's call, The Just Church is the key resource you need to see real change take place in the world, in your church…and in yourself.
I read the foreword (by Gary Haugen, president of IJM), the introduction, and chapter one of the book (which I downloaded for free on The Just Church website) and thought it was all very inspiring and compelling. I'm looking forward to reading the rest of the book soon! Here's a quote I liked from the introduction to the book:
Through the pursuit of justice we find our way to deep intimacy with a God who loves us and calls us into his work not only for the good of others, but for our own good as well.
Check out the video introduction to the book below and visit The Just Church website for more information about the book, to download the first chapter for free, and to watch videos that go along with each chapter of the book. Share with your church how to become a risk-taking, justice-seeking, disciple-making congregation!