Nefarious.  Honestly, before I heard about this documentary, I didn't even know what that word really meant, so I looked it up.  It means extremely wicked, evil, sinful, vile, villainous, abominable, heinous, treacherous, etc.
Nefarious: Merchant of Souls, a project of Exodus Cry, is part 1 of a documentary trilogy that goes "beneath the veil of the sex industry".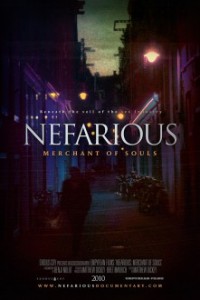 Nefarious, Merchant of Souls, is a hard-hitting documentary that exposes the disturbing trends in modern sex slavery. From the very first scene, Nefarious ushers you into the nightmare of sex slavery that hundreds of thousands experience daily. You'll see where slaves are sold (often in developed, affluent countries), where they work, and where they are confined. You'll hear first-hand interviews with real victims and traffickers, along with expert analysis from international humanitarian leaders.
The Incurable Fanatics Tour (the Nefarious screenings tour) is taking place across the USA from August through November (as of this writing).  Find out if there is a screening in your area and check out the Nefarious Facebook page to stay updated about the documentary.  The DVD will be released on 11-11-11, and you can pre-order it here.
UPDATE: The DVD released May 1, 2012, and you can purchase it here.  Nefarious has won numerous awards and has been called by Movie Guide, "one of the most compelling documentaries ever made."
This looks to be a journey into darkness, but from a Christian perspective so that we won't be left in that darkness, but rather come away with hope.  I haven't seen this yet, but I've heard that it is very well done and very moving, and I wanted to make you aware of it.  To be honest, I have a hard time watching this kind of stuff, and I'm a little nervous that this could be a stumbling block for some guys and I don't want to cause that by sharing this, but sex slavery does need to be exposed for the dark evil that it is.  Here's the trailer . . .
"If to be feelingly alive to the sufferings of my fellow creatures is to be a fanatic, I am one of the most incurable fanatics ever permitted to be at large."  ~William Wilberforce