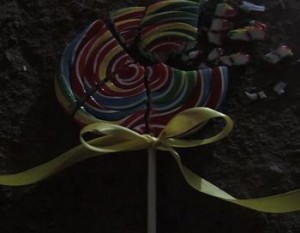 A wicked man lures young girls into his candy shop where he puts them into a machine and turns them into candy to sell to men who are looking for something "fresh."  A boy across the street sees this evil being done and tries to stop it, calling out for people to help do something, but will anyone help stop the candy shop?
That's a disturbing story that deals with a disturbing subject: child sex trafficking.  The Candy Shop ~ A Fairytale About the Sexual Exploitation of Children, produced by Whitestone Motion Pictures, will be released in November to spread awareness about this terrible crime and to spur people on to take action.
From their website . . .
Up to 500 underaged girls a month are trafficked for sex here in our city of Atlanta.

It's the number one city in the country for child sex trafficking . . .

The 10th in the world.
Brandon McCormick, director and producer of The Candy Shop, says this about child sex trafficking: "Once you know about it, you can't unknow about it.  You can't go home and not be affected by it."  Watch the film, be affected, and join the fight against child sex trafficking!
Visit Stop the Candy Shop and Whitestone's website for more information about the film, and see how they are partnering with Street Grace, an organization working to put an end to child sex trafficking in Atlanta and ultimately the United States.
The Candy Shop is a dark film because it deals with a dark topic, but it is one that cannot be ignored.  Help stop the candy shop!
Check out The Candy Shop trailer and documentary below and take a look at my more recent post to watch the full-length film . . .
See my other post about The Candy Shop to watch the full-length film.