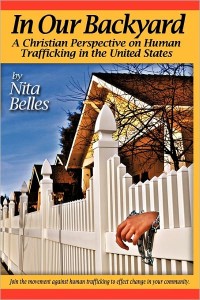 I absolutely love to read books!  I think God uses books to touch our hearts deeply and stir something in us.  When I started reading books about human trafficking a couple of years ago, my life totally changed.  God put a passion in my heart to do something to fight against the injustice of human trafficking and modern-day slavery, and I'm so glad He did.  So here's another book that touched my heart . . .
About a month ago I read In Our Backyard and found it to be an excellent book on the subject of human trafficking, specifically from a Christian perspective.  Nita Belles did a wonderful job weaving together stories and facts in a very readable way.  I learned some new things about "Stockholm Syndrome", read an amazing story about how God changed the life of a pimp, and was reminded again to follow Jesus' example in serving others.  I really encourage you to get the book, read it, and share it with someone else!
Check out my books page for some other books I've read and my post about some new books in 2011 for more books about human trafficking and modern-day slavery.