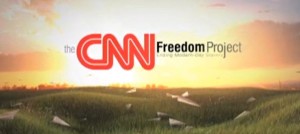 This week, CNN launched The CNN Freedom Project: Ending Modern-Day Slavery.  CNN is raising awareness about the reality of slavery and human trafficking around the world and the battle to put an end to it.  They have joined the fight to bring hope and freedom to victims of modern-day slavery.  From their website . . .
This year CNN will join the fight to end modern-day slavery and shine a spotlight on the horrors of modern-day slavery, amplify the voices of the victims, highlight success stories and help unravel the complicated tangle of criminal enterprises trading in human life.
Check out The CNN Freedom Project to find out what it's all about.  Join The CNN Freedom Project on Facebook and follow them on Twitter to stay connected and updated on their reports.