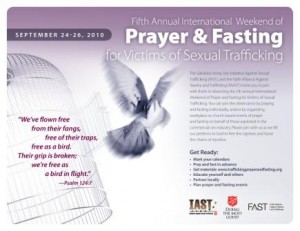 The 5th Annual International Weekend of Prayer & Fasting for Victims of Sexual Trafficking will be taking place September 24-26, 2010.
The Salvation Army, the Initiative Against Sexual Trafficking (IAST), and the Faith Alliance Against Slavery and Trafficking (FAAST) invite you to join with them in observing the 5th annual International Weekend of Prayer and Fasting for Victims of Sexual Trafficking. You can join the observance by praying and fasting individually, and/or by organizing workplace or church-based events of prayer and fasting on behalf of those exploited in the commercial sex industry. Please join with us as we lift our petitions to God to free the captives and loose the chains of injustice.
If you'd like to participate in praying and fasting for victims of sexual trafficking, you can download the flyer for the event here and register for it here.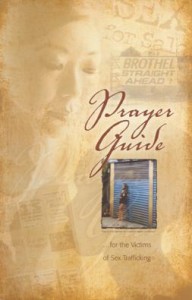 Also, check out the 'Prayer Guide for the Victims of Sex Trafficking', which I wrote about here, for more information on sex trafficking and many specific ways to pray about it.
Visit The Salvation Army's website for some helpful prayer and fasting resources as well as other resources about human trafficking.  You can also learn more ways to get educated about trafficking and take action to combat it at FAAST's website, and find out what you can do to stop sex trafficking at IAST's website.
"Is not this the fast that I choose: to loose the bonds of wickedness, to undo the straps of the yoke, to let the oppressed go free, and to break every yoke?"  (Isaiah 58:6)
". . . praying at all times in the Spirit, with all prayer and supplication."  (Ephesians 6:10-20)