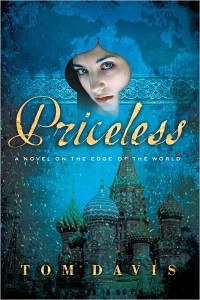 Priceless is the second book in the trilogy, A Novel on the Edge of the World, by Tom Davis, president and CEO of Children's HopeChest. Priceless is a story that deals with the issue of sex trafficking.
Stuart Daniels, American photojournalist introduced in the book Scared, which I wrote about in my last post, goes on another assignment across the world. This time he goes to Russia, where he finds himself caught up in a dangerous mission to help rescue girls trapped in sexual slavery. Read the compelling first chapter here.
I am really looking forward to reading Priceless and I encourage you to get a copy of it and read it to find out about the real, dark, and often hidden world of sex slavery.
Help spread the word about this book. The more people learn about this injustice and do something to help stop it, the sooner slavery and trafficking will end!
Visit the She Is Priceless website to learn more about sex trafficking and find out 5 ways you can take action to help stop sex trafficking. There is also a 5-day devotional with Scripture verses to study, things to pray about for victims of sex trafficking, and more.
You can also visit Tom Davis' blog to stay up-to-date on his writings about social justice and God's heart for orphans, the poor, and those who are oppressed.
Here are some facts about sex trafficking from the She Is Priceless website . . .
Over 2 million children are trapped in the sex slave trade.
1.2 million children are trafficked every year; this is in addition to the millions already held captive by trafficking.
Every 2 minutes a child is being prepared for sexual exploitation.
The average victim is forced to have sex up to 40 times a day.
The average age of a trafficked victim is 14 years old.
Sex trafficking is an engine of the global AIDS epidemic.
By 2010 Sex Trafficking will be the number one crime worldwide.
Check out the trailer for Priceless . . .
Go behind the scenes to some of the settings in Priceless . . .