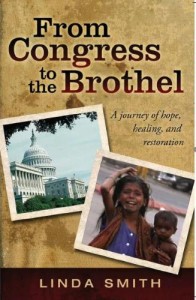 Linda Smith, former Congresswoman and founder and president of Shared Hope International, has written a heart-stirring book called From Congress to the Brothel.  It is a gripping story of how God worked in her heart to reach out and touch the lives of victims of sex slavery.
I was immediately pulled into the book by Linda's honesty and realness as well as the stories of the girls she met in brothels.  Linda went from struggling to even touch a young girl in a brothel to starting a ministry, devoting her life to help women and children trapped in sexual slavery.  What an amazing story of God's work done through a woman who was willing to be used by Him.
From the back of the book:
In these pages, you'll meet several of the victims. You'll encounter their astonishing, heart-rending accounts…but you'll also witness their thrilling transformations. This is a shocking story – at times, you may want to turn away – yet it is a story of real hope, the kind of hope that changes the world.

It may even change you.
I encourage you to get the book and support the ministry of Shared Hope International.
To learn a little more about Shared Hope International and watch a moving video about the ministry, see my other post about them.
Visit their website to learn about their three fold strategy and ways to take action against child sex slavery.  You can also learn more by reading Shared Hope's Blog.